Barbie expands its Barbie Fashionistas line with new dolls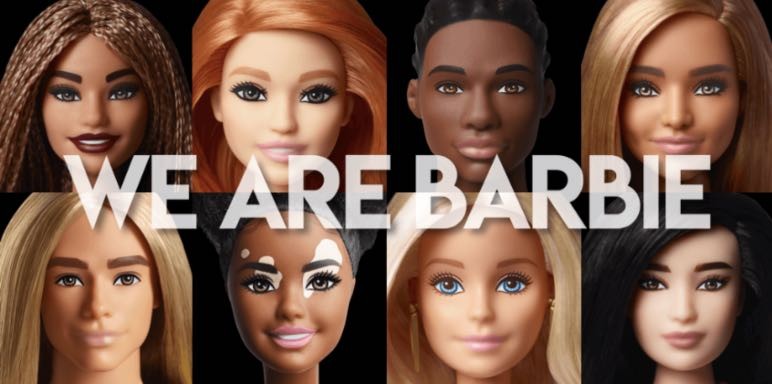 Many years have passed since the first Barbie hit the market. However, the Mattel company does not stop innovating and, therefore, today we can have the new Barbie Fashionistas line.

This is the latest Barbie collection and a set consisting of dolls that are characterized by promoting diversity and inclusion.

To achieve this, they offer a wide variety of skin tones, eye colors, hair colors and textures, body types and accessories to choose from.
A little about the history of Barbie
To know the history of Barbie we have to go back to the 50s, since it was at that time when Ruth Handler realized that her daughter preferred to play with dolls that looked like an adult woman than with traditional child-like dolls .
The first Barbie was released in 1959 from the hand of the toy company Mattel, was inspired by a German doll called Bild Lilli and received her name in honor of Barbara, the daughter of Ruth Handler. Today, Barbie is considered the most famous doll in the world.
You may also be interested in the Wikiduca article dedicated to the benefits of having a stuffed animal for children.
A line of Barbie dolls designed to reflect the world in which girls live
Although the first Barbie saw the light in the 50s, the Mattel company continues to innovate and launch new creations frequently.
We find an example of this in Barbie Fashionistas, a range composed of dolls whose mission is to reflect the world in which girls live and offer them infinite ways to express themselves in style and create stories.
It is for this reason that the new dolls join the already more than 170 Barbies that make up this line created in 2015.
But what aspects does the Barbie Fashionistas collection take into account to favor inclusion and disseminate values ​​such as respect and tolerance? Some of the most prominent are the following:
A greater amount of skin tones, eye colors, hair textures and facial structures.
A wide diversity of figure types that include from high to low and curvilinear wrists, passing through a doll with a smaller bust than usual, one with a poorly defined waist and another with very defined arms.
Various Barbie dolls that have some type of disability and that use a prosthetic leg or go in a wheelchair.
New Ken dolls, Barbie's boyfriend, which is also available to children in different skin tones, hairstyles, eye tones and body types.
The new products designed by the Mattel team have made it possible that, today, the Barbie Fashionistas line consists of dolls with 5 body types, 22 skin tones, 76 hairstyle styles, 94 hair colors and 13 hair colors eyes
It should also be noted that Ken's dolls are available in 4 body types, 18 types of constitution, 13 skin tones, 9 eye colors and 22 hair colors.
As Lisa McKnight, SVP and Barbie's global brand manager have pointed out, "we are proud that Barbie is the most diverse doll line on the market, a line that also continues to evolve to better reflect the world that girls see around it.
Our commitment and effort to reflect the real world is being offset by eight consecutive quarters of growth and double-digit growth of the Fashionistas category in 2019. "
So much so that, over the past year, more than half of Barbie dolls sold worldwide belonged to the Fashionistas line.
However, the news of the Barbie Fashionistas collection does not end here, since the company has wanted to go further in its eagerness to favor the inclusion of human beings in today's society.
That is why Mattel has also added to this new line of doll toys that have the following characteristics:
Barbie with dark skin and a gold prosthesis: it is a doll that was launched in the year 2019 thanks to the collaboration of Jordan Reeves, a twelve-year-old boy who aims to design creative solutions that are helpful for Children with disabilities. The innovation of this 2020 has been a doll that follows the same line but, on this occasion, has a darker skin tone and uses a gold-colored prosthesis.
Hairless Barbie: Unfortunately, in Spain alone 1,400 new cases of childhood cancer are detected every year, according to data from the Spanish Federation of Parents of Children with Cancer. On many occasions, treatments such as chemotherapy cause patients to end up losing head hair. It is for this reason that Mattel has also created a hairless Barbie that will help to be reflected to girls who, for whatever reason, are experiencing hair loss.
Barbie with vitiligo: As explained by Mayo Clinic health experts, vitiligo can be defined as "a disease that causes loss of color in skin areas." It is a disease that affects a large number of people and, therefore, Mattel has worked with a dermatologist to represent vitiligo as accurately as possible through the dolls of the Barbie Fashionistas line.
Ken with long hair: Barbie's new collection has also opted to give Ken a different air and to make available to boys and girls a doll with long red hair.

Remember that, if you are interested in resorting to this line of dolls where inclusion is the protagonist, you can find the Barbie Fashionistas collection in both the usual toy stores and Amazon, El Corte Inglés, Carrefour and Alcampo throughout 2020.

Do you want to meet other toys that are also full of advantages for kids? Do not miss our article dedicated to Iam, a doll that works on identity and the search for values ​​among children.

Comments
No comments made yet. Be the first to submit a comment
By accepting you will be accessing a service provided by a third-party external to https://www.wikiduca.com/